News
News&Topics(2015)
Nov. 20, 2015
SAKAWA Co.,Ltd. and Daiwabo Information System Co., Ltd. collaborate to sell "Kocri" and support schools nationwide in their purchases of hybrid blackboards with peripheral devices as a package
The Kocri hybrid blackboard application has won a place among the Good Design Award's best 100, and is the winner of the Japanese e-Learning Grand Prix Award
SAKAWA Co.,Ltd.
Daiwabo Information System Co., Ltd.
SAKAWA Co.,Ltd. (hereafter referred to as Sakawa; Head Office: Toon City, Ehime Prefecture; President: Suzuko Sakawa) and Daiwabo Information System Co., Ltd. (hereafter referred to as DIS: Head Office: Chuo-ku, Osaka; President: Yoshihiro Nogami) have begun selling the Kocri Start Pack, which includes the Kocri hybrid blackboard application (launched on July 29, 2015) and peripheral hardware. We support schools nationwide in their efforts aimed at the easy introduction of the Kocri hybrid blackboard.
In accordance with one of the principles of The Second Basic Plan for the Promotion of Education (Cabinet Decision of June 14, 2013), aimed at the maintenance of educational material, the plan to introduce an electronic blackboard into every public school classroom nationwide by 2020 is now being implemented. However, the average number of electronic blackboards introduced into such schools was only 2.6 units as of the end of fiscal year 2014 (i.e., March 31, 2015), and the further spread of electronic blackboards is projected for the future.
The low rate of introduction may be attributed to such issues as high cost, length of time needed to master the system, and the time needed to prepare the system for classes. In addition, even when such blackboards have been introduced, some teachers have criticized the current situation, claiming that the systems are underutilized, and noting that their operation varies among schools and classrooms because a variety of different models, from various manufacturers, have been introduced.
In response, Sakawa analyzed the aims of the new ICT education, and developed the Kocri hybrid blackboard application, in collaboration with Kayac Inc. The Kocri application is installed into smartphones or tablets, and enables the use of existing analog blackboards as electronic blackboards. It is an epoch-making system, inexpensive and easy-to-use for everyone, with the likelihood of further expansion in the future. In July 2015, Sakawa and Kayac concluded a development agreement for continued improvement of Kocri's performance.
【On the Kocri Start Pack】
The Kocri has received 5,000 downloads since its product launch, including those during the free trial period; it has won a place among the 2015 Good Design Award's best 100, and won the Grand Prix Award of the 12th e-Learning Awards.
The Kocri Start Pack is a package consisting of the license to use Kocri (either for one or three years) and necessary devices, including an iPad mini 4, a desktop projector, and an Apple TV. The package deal saves schools the trouble of making specific model selections when seeking the easy introduction of Kocri.
DIS, a major player in the corporate market, with roughly 90 sales bases across the country to cover every corner of Japan, is collaborating with Sakawa, a fixture in school education since its foundation in 1919, to spread Sakawa's electronic blackboards to schools nationwide, by supporting their introduction to schools, and helping distributors in their efforts to draw up proposals.
【Composition of the Kocri Start Pack】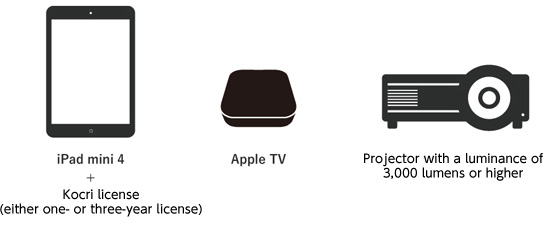 The package contains the following devices:
Projector (with a luminance of 3,000 lumens or higher)
Apple TV
iPad mini4
Kocri app (with either one- or three-year license)
Cable
【Summary of the Kocri hybrid blackboard application】
On SAKAWA Co.,Ltd.
Founded in 1919, SAKAWA Co.,Ltd. is a manufacturer of blackboards, and will soon celebrate its 100th anniversary. In addition to manufacturing and selling large-scale blackboards for schools, it today manufactures and sells electronic blackboards, as part of the improvements in the ITC environment under the initiative of the Ministry of Education, Culture, Sports, Science and Technology, and has lately been aggressively expanding its laminated lumber division in response to the renovation of wooden public buildings. Driven by its philosophy of "contributing to the improvement of education and culture," Sakawa confidently confronts the changing times and advancements in technology, committed to the development of new products and technologies that can be consistently enjoyed by users. Information on Sakawa is available on the following website.
URL:
http://www.sakawa.net/
On Daiwabo Information System Co., Ltd.
DIS is one of the leading distributors of ICT-related products in Japan, handling about 1.9 million items. As a multi-vendor, DIS contributes to the development of the information society, in harmony with the environment, through the provision of high-quality and reliable products to every corner of the country, owing to its unparalleled capability to procure products from a host of major manufacturers of PCs and peripherals all over the world, and its community-based sales system. Further information on DIS is available at:
URL:
http://www.pc-daiwabo.co.jp/english/index.html
*The company and product names above are trademarks or registered trademarks of the respective companies.
【Customer contact 】
SAKAWA Co.,Ltd. Tokyo Branch Sales Promotion Department
Mr. Kobayashi
TEL: +81-89-966-5566
Daiwabo Information System Co., Ltd. Marketing Dept. Education Group
Mr. Okamoto and Mr. Tani
TEL: +81-3-5746-6513
【Media contact 】
SAKAWA Co.,Ltd. Aichi Head Office General Affairs Department
Ms. Inoue
E-mail:
web_info@sakawa.net
TEL: +81-89-966-5566
Daiwabo Information System Co., Ltd.
Personnel & General Affairs Dept., General Affairs Sect.
Mr. Nagashima
E-mail:
webadmin@pc-daiwabo.co.jp
TEL: +81-6-6281-9100