Business of DIS
Daiwabo Information System Co., Ltd. (DIS) is one of the Japan's leading distributors of IT-related products.
With a 'Customer-First and Community-Based Business' philosophy, we deliver IT-related products, from about 1,200 manufacturers and suppliers in Japan and abroad, to end users in every corner of Japan, through our roughly 19,000 dealers across the country. We keep growing and meeting challenges in the rapidly-changing IT industry, and contribute to the development of the Japanese information society as one of the leading distributors of IT-related products in Japan.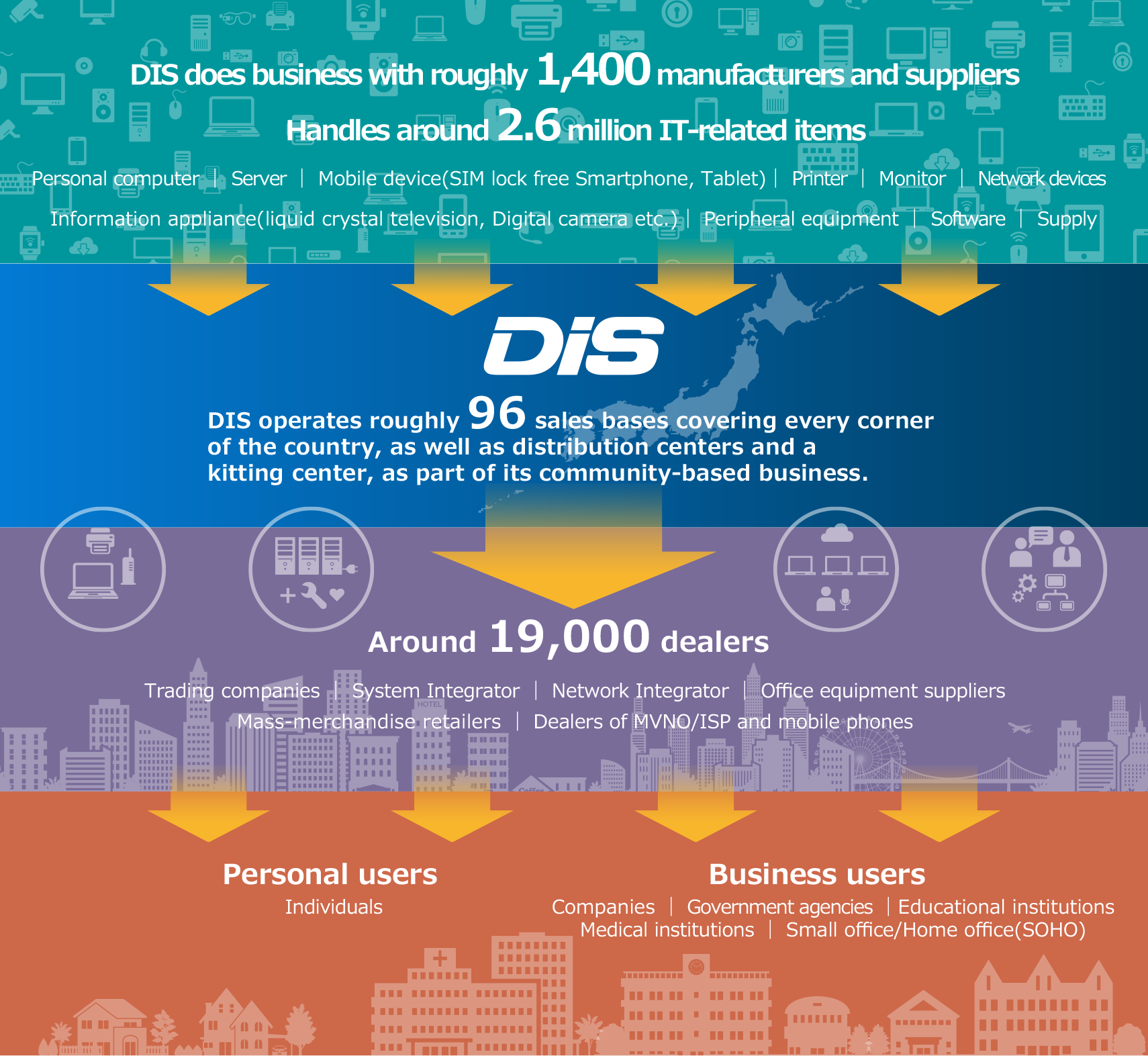 Everything is about our customers
We have established a community-based sales system supported by roughly 90 sales bases covering every corner of the country, enabling us to fully meet the diverse requirements of our customers as a friendly and trustworthy distributor.
Prompt delivery of items requested by customers at any time
As an independent multivendor, we offer around 2.2 million items from roughly 1,200 manufacturers worldwide, together with excellent service and support, and provide these to our customers in an optimal fashion.
We have established a system for immediate and precise delivery to customers, with seamless integration of our iDATEN BtoB system, enabling 24-hour, 365-day order processing, and our nationwide network of distribution centers, each of which maintains a stock of 30,000 items.
We offer total support for our customers'IT environments
We offer our customers a one-stop solution package consisting of 'Service & Support', responsible for every aspect of product introduction, from kitting before to maintenance after; 'Solution', responsible for system introduction and network construction; and 'Information Transmission Service', responsible for creating websites and promotional goods for customers' IT environments, in close cooperation with our DIS group companies.
Expanding in a variety of business fields
Communication services and mobile business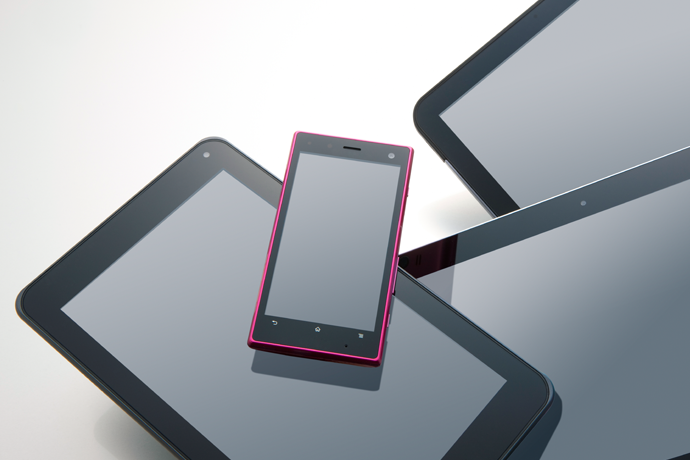 We offer SIM cards for SIM Lock-Free terminals and a mobile circuit such as WiMAX. In addition, we handle the latest SIM Lock-Free products, as well as tablets and smartphones from various manufacturers. As a distributor that our customers can count on, we offer, in addition to the sale of terminals, a comprehensive support service for product introduction and a generous window for initial failure and repair.
CLOUD SERVICE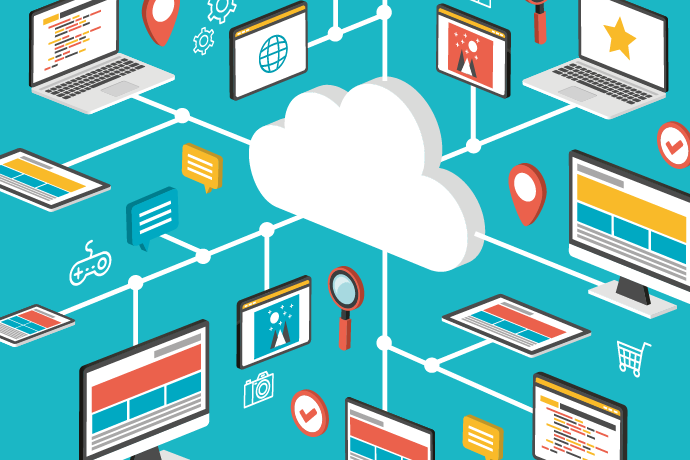 We offer a cloud service usable anytime, anywhere, and only when and as needed, without software.
Our approach to the 'digitalization of education'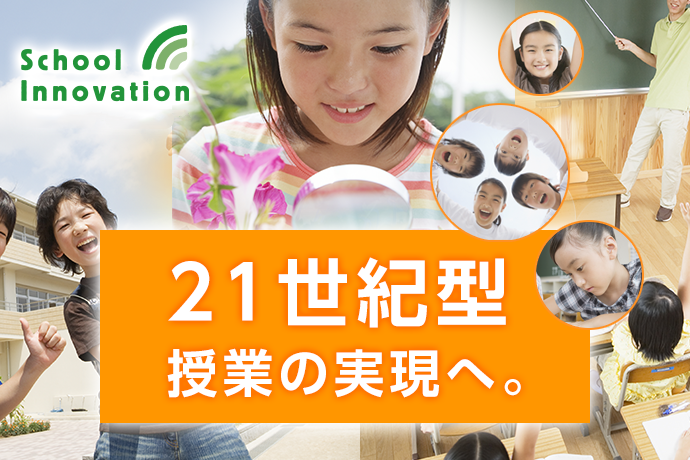 We are promoting the 'digitalization of education,' based on the policy formulated
by the Ministry of Internal Affairs and Communications, and the Ministry of Education, Culture, Sports, Science and Technology, to promote ICT utilization in educational environments and develop children's "ability to live in the digital society." Through the experimental study in the DIS School Innovation Project, which utilizes tablets in 32 schools in 21 local governments, we are generating case studies of the utilization and operation of ICT in regular classrooms, and supporting educational environments in introducing ICT across the country.
*We sell our suppliers' products only in the Japanese domestic market.
Inquiry regarding a new transaction (sale of merchandise)