Greetings
DIS continues to evolve as a distributor devoted to the development of the information society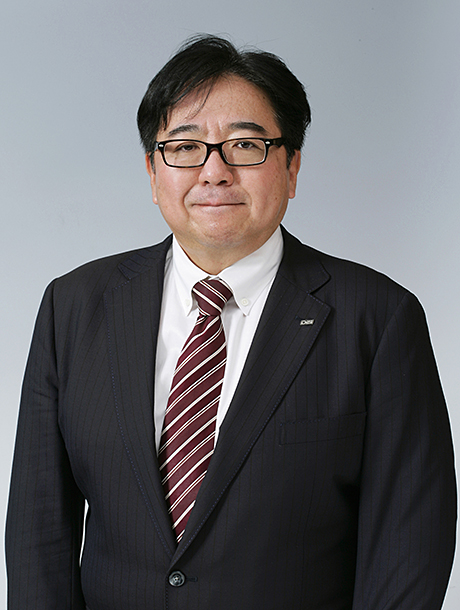 Daiwabo Information System Co., Ltd.
Representative Director, President
Hiroyuki Matsumoto
Community-based and customer-oriented sales system capable of meeting customer demand meticulously and sensitively
Since its foundation, DIS has been deploying a large number of sales bases, and evolving a wide-range of product selection, along with highly advanced distribution functionality, to establish effective community-based service and support networks. Additionally, we have listened to the voice of customers all over the country, to design a superior business support system that addresses the wide range of consumer needs, to expand the domestic IT market.
DIS currently has around 90 sales bases across the country, along with a nationwide network of distribution centers serving every corner of the country, from Hokkaido to Okinawa; and handles as many as 2.2 million IT-related items from all around the world, as an independent multivendor.
We share the latest information vital to businesses, such as product information, the market situation, and market trends, with our sales bases across the country, regardless of location, and deliver it to our customers in a timely manner; at the same time, achieving low-cost operations with the help of a sales management system supported by state-of-the-art technology. The data we collect through our various sales activities is accumulated in our sales management system, and utilized as one-of-a-kind information reflecting the specific characteristics of each region, to develop our collective strengths as a distributor on a daily basis.
Offering superior service and support to fully meet customer demand, by combining the respective strengths of the DIS group companies
With the rapid change in the IT environment, customer demand for information technology changes daily, continually and rapidly growing more sophisticated and diverse. As a one-stop supply center with optimal commodity supply, each DIS group company offers the technologies and support most suitable to individual customers, while vigorously working to maximize its strengths. We are committed to mobilizing the varied strengths of our group companies, to comprehensively support the IT business of our customers, thereby enabling our customers and ourselves to prosper together.
For the development of an affluent information society
In our life and business environment, IT-related products are in transition from being merely owned and used to being fully exploited in highly sophisticated ways. We thus constantly enhance our business environment to rapidly and seamlessly incorporate state-of-the-art technologies and information, both at home and abroad, offering and distributing new sources of business and services to every corner of Japan; thereby contributing to the development of an affluent information society in Japan, in addition to proactively promoting and expanding the contexts for utilizing new IT-related products in society.