News
News&Topics(2021)
Nov. 22, 2021
Daiwabo Information System begins offering "DX Education Service" to accelerate the digital transformation of small- and medium-sized companies
-Supporting continuous activities to increase understanding of true DX-
Daiwabo Information System Co., Ltd.
Daiwabo Information System Co., Ltd. (Head Office: Kita-ku, Osaka; President: Hiroyuki Matsumoto, hereafter referred to as DIS) begins offering a systematized DX Education Service to small- and medium-sized companies as part of its activities to help them keep pace with accelerating digital transformation (hereafter referred to as DX). This service is intended to offer support by clarifying any misunderstandings regarding DX, and redefining the means and objectives of DX.
Due to the Covid-19 pandemic, there is an increased need for digital tools and cloud computing, and the market is growing rapidly. However, in many cases, the DX tools and environments adopted by companies have not contributed to better business results, which reduces their motivation to continuously evolve their business models. Further, current moves toward digitalization are often simply measures to cope with the pandemic, with little relation to post-pandemic business strategies.
On the other hand, the rapid digitalization of recent years has established an environment where many companies utilize digital technology with little resistance, thanks to a variety of user-friendly digital tools. In order to make real strides toward true DX by taking advantage of this environment, companies must now develop a vision of the future in accordance with digital technology-based reforms, and implement organizational activities, through a deeper understanding of the introduction and utilization of such technology, as a means toward "business transformation," which is a DX objective.
In order to motivate the will and resolution for such business transformation, DIS will support training aimed at clarifying misunderstandings, and deepening the understanding of organizations, regarding DX, as well as continuous activities aimed at specific results, by introducing and utilizing digital technologies based on this training.
In the New Normal, the way of working is growing increasingly diverse, and dramatic changes can be seen in customer experience (CX), business models, and employee behavior. There is an urgent need to promptly cope with diverse and unpredictable changes in the business environment, offer excellent CX, and establish a competitive advantage based on the introduction of digital technology and the collection and utilization of data. The DX Education Service is structured around two axes: "General education," to constitute a basis for learning; and "Education for the application and utilization of digital tools," to support concrete and continuous activities. The latter is intended to provide a flexible means of developing ideas that will take root in an organization through the development of flexible applications using no-code and low-code tools and the utilization of the applications so developed. With regard to the educational content, we will expand it sequentially to offer education that facilitates the transformation of company culture through DX. Through these educational activities, DIS will support the accelerating DX of small- and medium-sized companies by restructuring business models that are based on the collection and utilization of data.
■
Characteristics of the service
1)
Support of organization-wide activities by offering an educational menu that includes training in the basic concepts of DX
2)
Support of activities aimed at DX based on four steps: Learning, Understanding, Generating and Testing Ideas, and Implementation and Support
3)
Promotion of corporate culture transformation through "General education" and "Education for the application and utilization of digital tools."
*The above information includes elements planned for future release.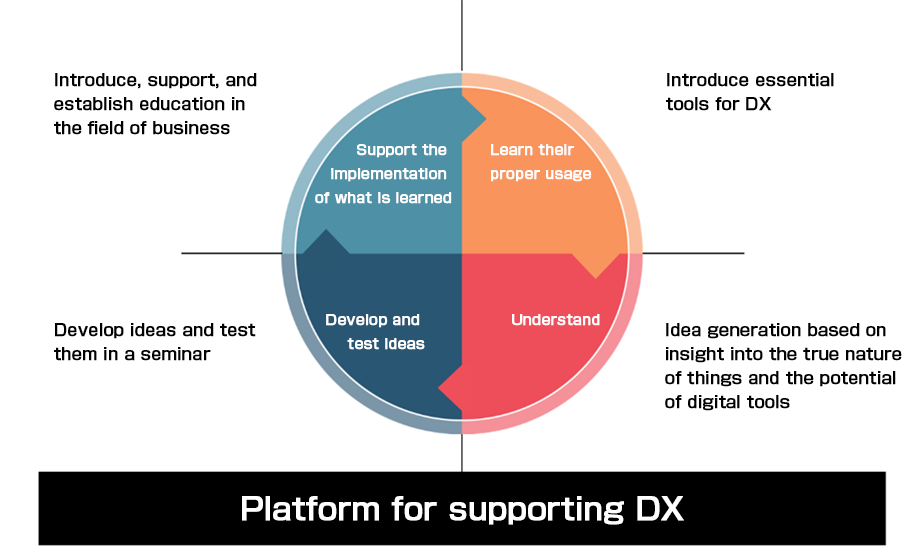 DIS has a professional organization dedicated to providing nationwide support, in addition to offering diverse IT-related products and services as a multivendor. By means of this professional organization and our community-based sales system consisting of around 90 sales bases across the country, we will deliver DX Education Service to small- and medium-sized companies and local governments through roughly 19,000 dealers, to contribute to the acceleration of Japan's DX.
On Daiwabo Information System Co., Ltd.
As one of Japan's leading distributors of IT-related products, DIS supplies such products, purchased from around 1,300 makers and suppliers, both at home and abroad, to end users across the country, through our network of around 19,000 dealers in Japan. Operating roughly 90 sales bases throughout the country, we have a well-established and community-based sales system, and can respond to a wide-range of requests from our customers, as a friendly and trustworthy distributor.
URL : https://www.pc-daiwabo.co.jp/english/
【For media inquiries, please contact】
Daiwabo Information System Co., Ltd.
Information Strategy Dept., Mr. Tanimizu
TEL : +81-6-4707-8063
【For press inquiries, please contact】
Daiwabo Information System Co., Ltd.
General Affairs Dept., General Affairs Sect., Mr. Nagashima
TEL : +81-6-4707-8000
E-mail : webadmin@pc-daiwabo.co.jp
*Company and product names are the registered trademarks or trademarks of their respective companies.