News
News&Topics(2021)
Mar. 30, 2021
Daiwabo Information System begins offering automatic renewal of Adobe product licenses through iKAZUCHI
Daiwabo Information System Co., Ltd.
As of late April, 2021, Daiwabo Information System Co., Ltd. (Head Office: Kita-ku, Osaka, President: Hiroyuki Matsumoto, hereafter referred to as DIS) will begin offering automatic renewal of subscription product licenses offered by Adobe Inc., in collaboration with Adobe KK (Head Office: Shinagawa-ku, Tokyo, President: James McCready, hereafter referred to as Adobe), through iKAZUCHI, the subscription management portal run by DIS.
The automatic renewal will allow dealers to complete the procedure for a licensing agreement simply by applying for registration with iKAZUCHI, without registering on the reseller console that manages the licensing of Adobe products. In addition, they will not have to go through renewal procedures every year because the system renews the agreement automatically.
Lately, subscription license agreements that allow licensees to use the latest software on a continuous basis have been growing increasingly popular. For further sales expansion of such licensing agreements, it has become vital to offer the latest software efficiently, at the customer's desired timing and in the desired quantity.
Offering automatic renewal of Adobe product licensing agreements through iKAZUCHI, which was achieved through collaboration between Adobe and DIS, allows dealers to reduce operational man-hours, thereby enabling them to focus more on promoting the use of subscription services, and creating new value for their customers.
Tomonobu Kamiya, Vice President, Digital Media, Adobe KK, states, "We are very pleased to have concluded an agreement by which Daiwabo Information System, which has seen excellent sales results for many years as a distributor of Adobe Creative Cloud and Adobe Document Cloud, will offer automatic licensing renewal for the first time in Japan. We expect that streamlining the procedure for renewing licensing will allow both Adobe and DIS to enhance their active promotion of the solution business, and contribute to the efforts of customers to facilitate digital transformation.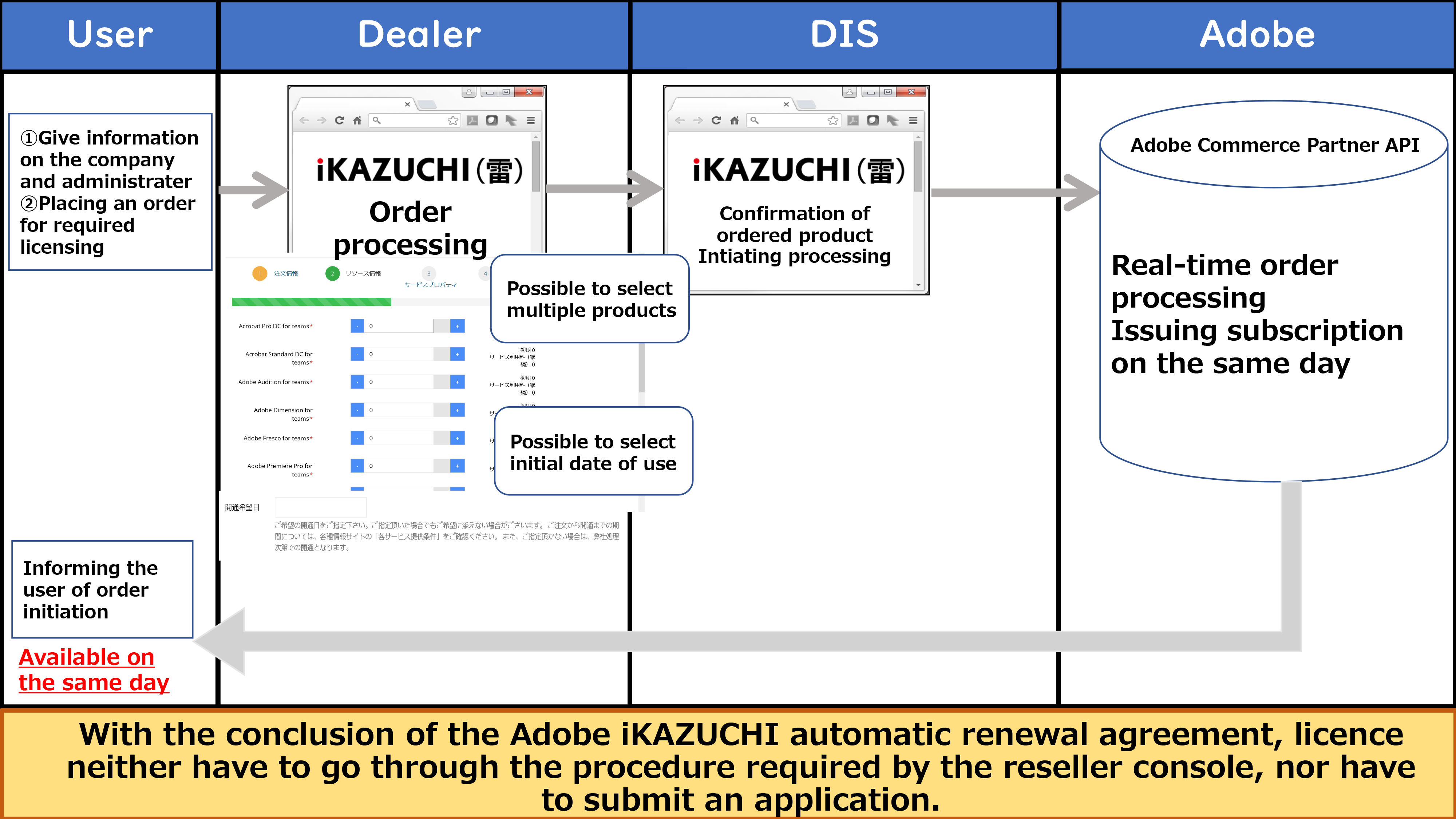 ■Products eligible for automatic renewal: Adobe VIP products (Adobe Creative Cloud, Adobe Acrobat DC, Adobe Sign, Adobe Stock).
■What is iKAZUCHI?
iKAZUCHI is a subscription management portal, including cloud service, designed for DIS dealers. It enables them to reduce the order-related man-hours required for their diversifying subscription cloud services, and achieve integrated management of their customers and continuous stock business contracts based on yearly and monthly fees. As of March, 2021, it is managing 128 services in collaboration with 58 companies.
On Daiwabo Information System Co., Ltd.
As one of Japan's leading distributors of IT-related products, DIS supplies such products, purchased from around 1,200 makers and suppliers, both at home and abroad, to end users across the country, through our network of around 19,000 dealers in Japan. Operating roughly 90 sales bases throughout the country, we have a well-established and community-based sales system, and can respond to a wide-range of requests from our customers, as a friendly and trustworthy distributor.
URL : https://www.pc-daiwabo.co.jp/english/
On Adobe KK
Adobe KK is the Japanese subsidiary of Adobe Inc. of the U.S.
You can read details of Adobe in the website (https://www.adobe.com/jp/).
【For media inquiries, please contact】
Daiwabo Information System Co., Ltd.
Procurement & Sales Promotion #2 Dept. MD7 Group. Mr.Namba
TEL : +81-3-5746-6384
【For press inquiries, please contact】
Daiwabo Information System Co., Ltd.
Personnel & General Affairs Dept., General Affairs Sect. Mr. Nagashima
TEL : +81-6-4707-8000
E-mail : webadmin@pc-daiwabo.co.jp
*Company and product names are the registered trademarks or trademarks of their respective companies.