Daiwabo Information System (hereafter referred to as DIS, Head office: Chuo-ku, Osaka, President: Yoshihiro Nogami) has decided to engage in the next-generation high-speed wireless communication business, using Mobile WiMAX on the mobile virtual network operator (MVNO) system, in collaboration with UQ Communications Inc. (hereafter referred to as UQ Communications, Head office: Minato-ku, Tokyo, President: Takashi Tanaka).

Mobile WiMAX is a communication service that uses a broadband wireless access system (*1), which offers easy high-speed Internet connection provided via the MVNO system. (*2) The following page on the DIS website provides information about Mobile WiMAX: http://www.diswimax.jp/
Marketing strategy of DIS for Mobile WiMAX
| | |
| --- | --- |
| (1) | We will sell Mobile WiMAX communication cards to end users (users of the Mobile WiMAX service) through our approximately 17,000 sales partners nationwide. |
| (2) | We will establish a system that allows users to receive the application screen automatically by connecting a Mobile WiMAX communication card to their PCs, and to complete the procedures required for Internet access easily. (Available only to users inside the WiMAX area *3) |
| (3) | For corporate users, we will offer a one-year-contract "Mobile WiMAX Service" (Internet-Access Service) and a Mobile WiMAX communication card as a set. |
Our sales partners and customers alike will benefit from simple application procedures for the WiMAX service using "iDATEN" (URL: http://info.idaten-ex.com/), which is a BtoBtoB system we provide to our sales partners.
Future business development
We will set up a website to provide SaaS type applications, which are extremely suitable for a mobile environment. At the same time, we will assist our customers in constructing a broadband environment inside and outside the company by providing products via a kitting service. This service includes preparing a PC that is ready for "Mobile WiMAX" use, and installing applications before delivery that meet the customer's requirements.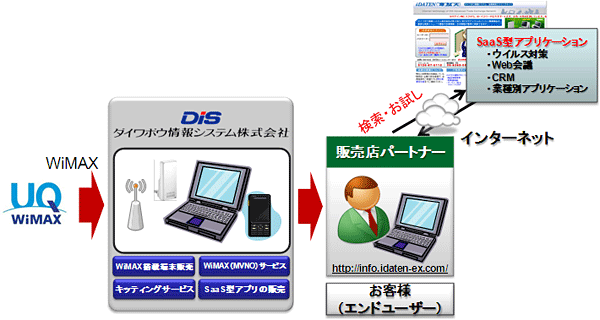 *1
Broadband wireless access:
Unlike the existing wireless LAN, this Internet communication system provides wireless always-on Internet access using broadband.
In Japan, carriers including UQ Communications provide this service using the 2.5 GHz band.
*2
Mobile Virtual Network Operator (MVNO):
An MVNO provides a communication service under its own name using wireless communication infrastructure that it rents from the owner.
*3
Inside the WiMAX area:
Access to WiMAX will expand nationwide, and is scheduled to cover 90% of the population by 2012. Please visit the UQ Communications website (http://www.uqwimax.jp/service/area/) for details.
On UQ Communications Inc.
UQ Communications is the only carrier in Japan that provides a nationwide service using global standard Mobile WiMAX technology.
UQ Communications Inc.
Founded
Capital
Representative Director
Employees
Head Office
August 29, 2007
¥ 47,000 million
Takashi Tanaka
222 (as of May 1, 2009)
Shinagawa East One Tower, 2-16-1 Konan, Minato-ku, Tokyo 108-0075, Japan
| | |
| --- | --- |
| * | The communication speed, which is described on the UQ Communications website, is the maximum speed provided by Mobile WiMAX, and not the actual communication speed obtainable by users. The actual speed may be slower depending on the radio wave condition, line congestion, and the user's mobile terminal. |
Please contact the following people to inquire about this article.
Daiwabo Information System Co., Ltd.

Contact person for customers
Nationwide Sales Administration Dept.
i Corporate Sales Sect.
Mr. Masanori Aoi
TEL: 03-5746-6461 FAX: 03-5746-6496
Website for information on Mobile WiMAX http://www.diswimax.jp/
E-mail: mobile-ag@pc-daiwabo.co.jp
Contact people for the press
General Affairs Dept.
Mr. Masao Okiyo and Mr. Ichiro Sadakata
TEL: 06-6281-9100 FAX: 06-6258-9351